}
- Our Approach -
Lindley Architects, are passionate about our profession and we believe in the importance of design - considering the holistic as well as the detail, the internal space as well as the external form - to achieve and realise outstanding enduring high-quality architecture.
We approach each project as a unique opportunity with a fresh outlook focussed upon the specific needs of the client and responding to the characteristics and challenges of each individual site.
-Creative -
Lindley Architects believe in adding value through the process of creative and innovative design: listening to our clients and developing the project vision together; evaluating and understanding the environmental context and allowing this to inform the design, from concept through to specific detail; utlising our technical expertise and specifying high quality materials; marrying with the care and craftsmanship to deliver a high quality finish.
- Assured & Experienced -
We pride ourselves on the quality of service we offer and the quality of work we produce. As a Chartered practice, Lindley Architects offer the full comprehensive range of RIBA services: from briefing and feasibility, to concept design and planning; from technical design and construction information, to tender and overseeing the works on site.
- Collaborative -
Lindley Architects seek to work closely with our clients. We pride ourselves on the client relationship we maintain throughout each project. Our inclusive approach provides clients with the necessary support, expertise and confidence throughout the process of design and construction. Clients have returned to engage our services because we deliver on their requirements.. We will be happy to provide references to new clients.
- Designing for Life -
Lindley Architects believe that designing with care and consideration is fundamental to creating a sustainable future, informing the decisions we make and delivery of our architecture. We seek to mitigate and reduce the impact upon the environment and demand upon energy use through a holistic approach incorporating passive strategies within our design process as well as utilising the most efficient and effective new technologies for local energy generation and storage. Lindley Architects believe in creating architecture for all and design environments to serve all stages of life and to suit any specific access brief including for senior age.
- Our PORTFOLIO -
Within our portfolio, we include examples of our work across the residential sector, including: new build & infill, refurbishment & extension, heritage & conservation, mixed-use & regeneration.
- Our Services -
Our services are tailored around the client's needs and the project requirements to ensure we offer the appropriate level of support, professional leadership and coordination during the design and construction process.
- About Us -
Lindley Architects have a genuine commitment to creating places which enrich people's lives through high quality architecture.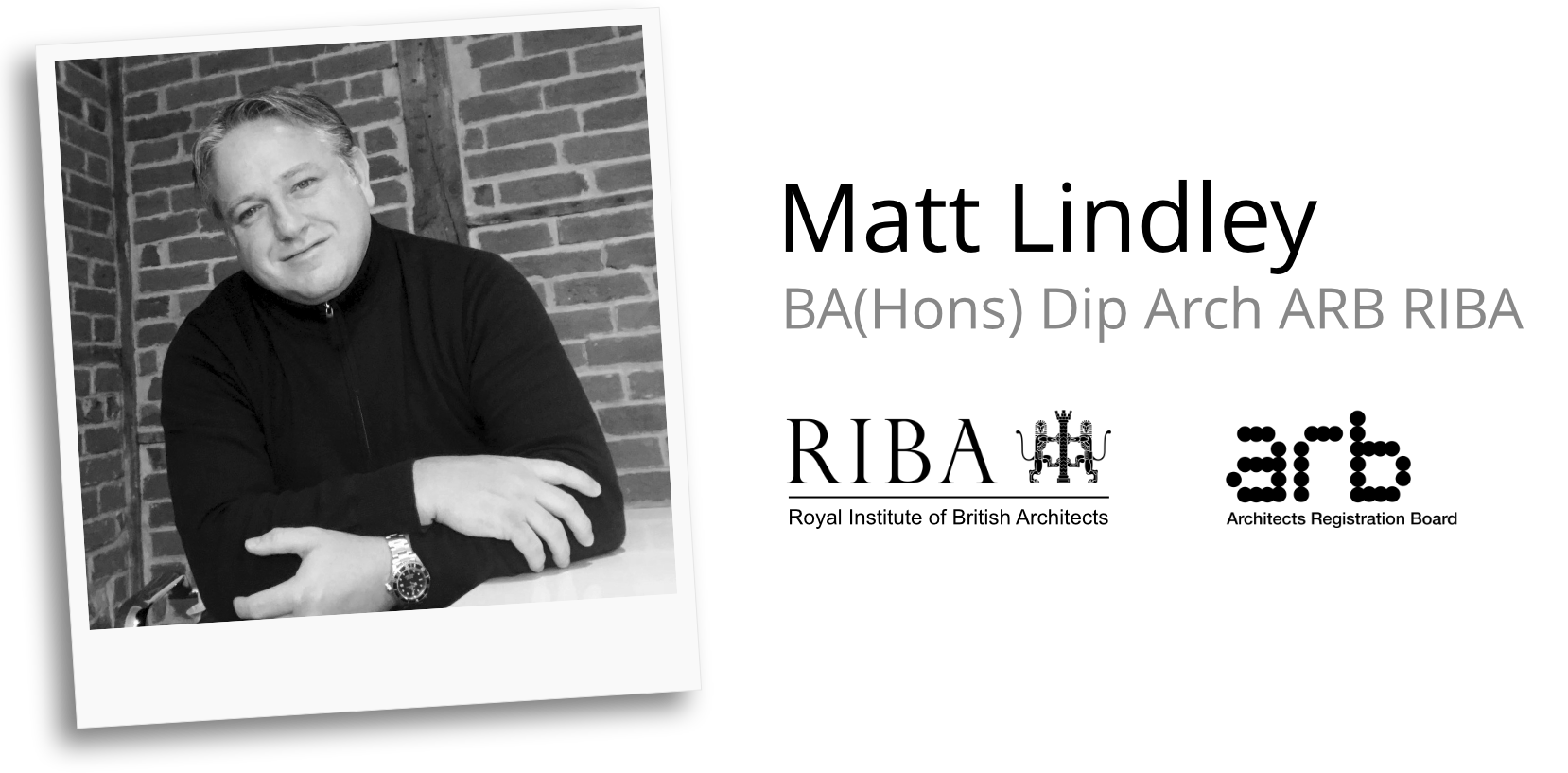 "We approach each unique opportunity with a fresh outlook and a passion for creating high quality and sustainable architecture through a simple, efficient and pure design response"
RIBA Chartered Practice
Matt Lindley is the founder of Lindley Architects. He is a Chartered Architect with over 25 years of experience working with private and developer clients specializing in the residential sector.
Experienced Architects in London and the South East
Building upon his previous experience of working at Broadway Malyan (Director of Architecture), Matt established Lindley Architects to continue to provide a high quality architecture service to clients.
Lindley Architects are experienced at transforming and extending existing properties as well as delivering new homes and residential developments. Whether it is an alteration due to a change in family circumstances, adapting for senior age living comfort, considering change whilst retaining the values of a conservation heritage asset, addressing the issues of a complex urban or open field setting, we enjoy the journey of working with and assisting our clients to explore the opportunity and to realise the full potential to meet their needs.
We have successfully completed projects within the local authorities of: Waverley, Elmbridge, Guildford, Mole Valley, Woking, East Hampshire, Chichester, South Downs National Park Authority, Mid Sussex, Horsham, Kingston-upon Thames, Richmond-upon-Thames, Kensington & Chelsea, Hammersmith & Fulham, Somerset West & Taunton and Cornwall Council.
---
Haslemere Studio:
Robin Hill Studio
Nutcombe Lane
Hindhead
Surrey
GU26 6BP